The jewellery business consultant Julia Castelli, whose work in search of rare and valuable jewellery is reminiscent of detective work, has shared the story of her success with Kommersant UK. In the interview, she gave an honest account of how she changed countries, found both love and a new calling, totally changed her career path and carved out a new niche for herself in the business world.
What made you decide to take the radical step of emigrating?
My first emigration was to the USA. Beforehand, I had travelled a lot and been to different places; Hong Kong, Egypt, Thailand, Sri Lanka, as well as America itself, incidentally. I first went there 23 years ago. Even back then, I thought 'maybe I should stay here?', but I still wasn't ready to make the move. I went home to Bulgaria, finished university and got a master's degree in economics. At home, I had a good life and a wealthy fiance, but I wanted independence. I read the books of Daniella Steel about successful American girls and mentally prepared to leave. At that time, everyone was emigrating to Western European countries such as Spain and Italy, as it was easier to get a Schengen visa. I chose the USA for several reasons; first of all, I knew English, secondly, America is far away, so it's hard to come back from there. That meant I'd try even harder to establish myself in the new country. I gave myself two years to do so. Of course, I understood that it would be difficult (I had a tourist visa without the right to work), but I took a risk and never regretted my decision.
I didn't know anyone in the US. I rented a little room in a flat that belonged to a lady from Poland who worked in banking. The main advantage of this accommodation was its location, in a prosperous neighbourhood in Manhattan's Upper East Side. I started looking for work right away. During the whole first month, I took no days off; by day I was a shop assistant at a premium children's clothing store, while, in the evenings, I was a waitress and barmaid. A little later, I started doing shifts in a woman's clothing boutique. And I had a master's degree!
How did you feel about the loss of status?
It wasn't easy. During this period, I began to take antidepressants for the first time in my life. But now, looking back on it, I understand that only by reaching rock bottom can you learn to appreciate your previous lifestyle, once you reattain it, and also savour your future achievements.
Was emigration 20 years ago different from how it is today?
I have had an immense experience of this as I have changed my country of permanent residence twice; the first time in search of the American Dream, the second when, in 2005, I emigrated to Britain for romantic reasons. By that time I had already reached a certain point in the US; I worked as the manager of the Chopard jewellery department in the Saks Fifth Avenue luxury department store, but in England, I had to start again virtually from scratch. There was a slight difference as I had a place to live and my beloved husband. Although no one knew me in the jewellery business, I found a job quite quickly. I started to look for vacancies a year before I made the move, and in a few months, I already had the role of manager at Asprey & Garrard in London's Harrods. The position had the same responsibilities as in the US, but the salary turned out to be substantially lower; this is the British reality. In my view, nothing has changed in the last 20 years. Emigrants are consciously ready for a reduced status, as they can't find the work they are qualified to do. It seems to me that it will always be like this. Emigration is a hard step to take.
You have long lived abroad. How often do you go home to Bulgaria, and on what occasions?
I don't go home often, the maximum is three times a year, to see my mum, (She's Russian, but she's lived almost all her life in Bulgaria), as well as my brother's family. All my childhood friends have moved abroad. I have two children (a daughter who's 11 and a son, who's 14), and they speak their parents' languages: Bulgarian, Italian (my ex-husband is Italian) and Russian (on Saturdays they go to a Russian-language school). It's important to me for them to absorb the culture of my country, that's why I go there with them. The majority of emigrants, as I often observe, want a clean slate, so they decide not to teach their children their native languages and don't tell them about their past or culture. They want to mimic the British or Americans in everything, to adapt to the countries in which they've acquired residence permits. In my view, this is wrong, because linguistic and cultural diversity is the greatest wealth emigrant parents can give to their children.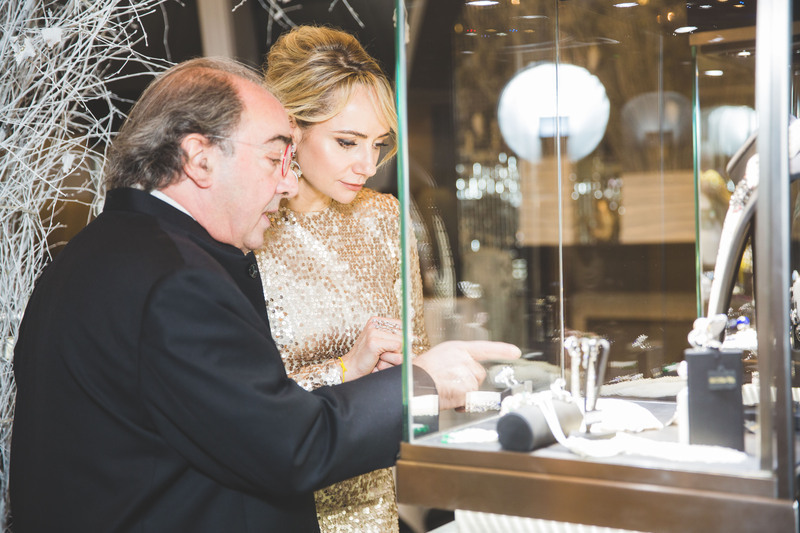 Your future career path was set when you were offered a job in a jewellery shop. If we can put it in these terms, how important is it to take advantage of the chances which providence gives you?
We need to take advantage of every opportunity that life gives us. To do this you need to be open-minded and think freely, without being blinkered. Quite often, this narrow-mindedness and self-imposed boundaries are caused somehow by the influence of the family. Many parents believe that they have a better understanding of what profession would be most suitable for their children, often without taking into account the children's own choices and wishes. I think that moving out and living independently at rather an early age helped me to choose the path which led to my future calling. I chose to study economics, largely for reasons of prestige. At the time, this was the most fashionable subject, and I wanted to please my parents with this worthy profession. I dreamed of a career as a diplomat, as I had always liked foreign languages and travelling. But when I happened to find myself in the world of jewellery I realised that it was for me. I love beauty. Also, this business makes people happy. Customers come either for their own enjoyment or to choose a present for someone. That's why I seized the chance. Now, going on my life experience, I can say for sure that you don't need to chase after prestige. Doing what you love brings happiness and success.
Now you have your own business. How long ago did you open it?
In 2007, several events happened at once which pushed me to this decision. First of all, my husband and I wanted children, but I was giving my all to my work and I had no time for my family. At that point, I was the director of a jewellery department for VIP clients. The second factor was my employers' decision to cut my salary, despite my virtual living at work. So I quit and took some time out to make sense of it all and decide what to do next. My husband said 'since you devote so much time to your clients and you're good at what you do, why don't you try working for yourself?'. It was then that the idea for my business began. At that time I was selling coloured diamonds for large sums, so I was already at the top of the jewellery business. But when starting something new, it's always hard to take the first step. First of all, I called several partners and told them I was opening my own business. I started off as a private consultant selecting items of rare or precious jewellery. Beforehand I had monitored the market and realised that no one had previously offered this service, so I took the niche.
Tell us about what you consider to be the greatest deal of your career; the acquisition of a £20m diamond.
I received an order for a very high sum from one client to select haute couture dresses, watches and expensive jewellery. That's how I got into creating looks and being a lifestyle manager. The £20m stone was one of the largest acquisitions I had ever done personally. I had organised larger-scale transactions; a hotel made a purchase for £150m but several people participated in that. I take each acquisition very seriously; when the sums start from a million up, it's a huge responsibility.

Have high earnings turned your head? Does money change people at all?
I'm not so much a down-to-earth person, I'm more of a dreamer, but it seems to me that high earnings haven't changed me. For example, when I received my largest-ever award, I put part of the funds into a mortgage and the rest to one side. Of course, I bought myself several expensive things, but everything was, let's say, in moderation. For me, balance is important, both in life and in business. I love nature and I devote a lot of time to spiritual practices. In the circles I move in, I could cite a few examples of people who have been changed by big money. They just can't cope with their new lifestyles, so they start to humiliate people and be rude to their employees. However, It seems money is secondary here; from experience, I believe that they had always had these negative traits, and money just lets them come to the surface. Money can also be a force for good, as a tool to help you to improve your life by investing in personal development. If you give to charity, it can also improve the lives of people around you.
Who are your clients and where do they keep these valuable diamonds?

They are successful, prosperous and wealthy people who have either earned the capital themselves or are the heirs to well-known dynasties. I work with presidential families and with jewellery brands from the premium segment (there are more than 50 of them), such as Cartier, Faberge, Piaget, De Beers, and Chanel Fine Jewellery as well as others. I can't disclose the names of my clients as confidentiality and loyalty are the main principles of my work. Highly valued articles are usually held in home safes or bank vaults.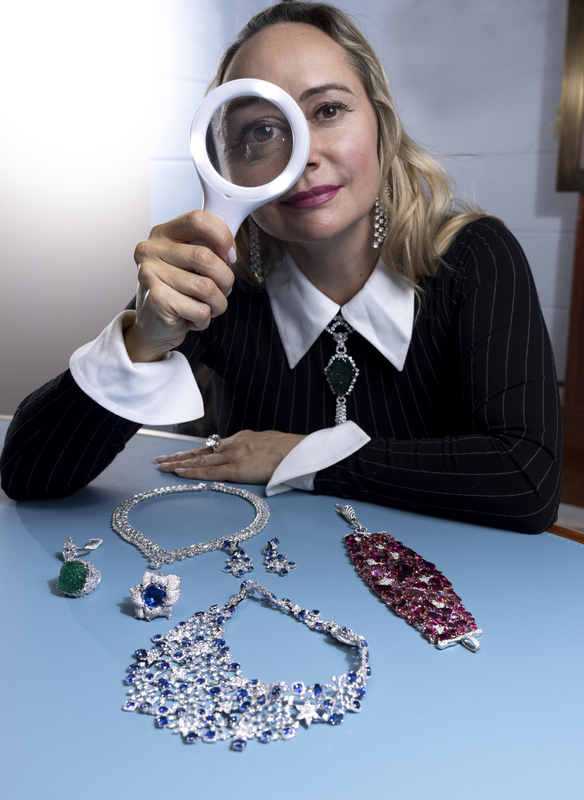 What does the process of looking for rare articles of jewellery look like?
The search for valuable items is an extremely interesting and absorbing process which can last anything from a few hours to several months, with the longest searches taking eight months. Private clients often come to me by recommendation, and they don't always have clear aims or budgets; while some know exactly what piece they want to acquire and for what sum, others want to make an investment but haven't quite decided what to purchase or the amount of funds they're prepared to put into it. My job is like detective work. They even call me the Sherlock Holmes of diamonds. After I receive an order, I develop a plan and start to act. Searching for rare articles is a rather delicate job overall; the jewellery world is similar to the art world in that you must be careful about disclosing the name of the work or article that you're looking for to too wide a circle of people as it's highly likely the increase in interests will cause the price to skyrocket.
Do clients come to you with the aim of investing in precious stones? If so, what advice do you give them?
Clients do come to me with questions about investments, but I always warn them that I'm not a financial expert and that I can only advise them by going on my own practical experience and connections. Before suggesting a client buy a valuable article or precious stone, I conduct extensive work, studying the market while looking for advantageous purchases or unique items. Interest in investments in stones and precious metals grows tremendously during a crisis. As there have already been several such crises during my career, I can say that this always happens. Investments in stones are relatively stable and, even if they don't grow exponentially, they usually keep their value. I recommend clients invest in white or coloured diamonds, as these are rare, but the most profitable purchases are of large stones from 5-10 carats in size. It's also worth investing in rubies, sapphires and emeralds, but in this case, it's important to pay attention to the quality and origin of the stones, as even the place where it was mined affects the price. For example, rubies from Myanmar (Burma) and emeralds from Columbia are considered the best quality in the world. Pieces of jewellery from the limited collections of famous brands are a good investment.
What jewellery do you like and wear yourself?
From day to day, I keep to a casual style and I don't wear jewellery at all. But when I go to social events, I prefer sizable pieces with very large stones such as emeralds, sapphires and coloured diamonds (I adore colour). Partially this is a form of advertising. The pieces can either be from my personal collection, or from a partner's. You need a lot of confidence and self-assurance to wear them. When I do it I feel very comfortable and natural. I love to shine. I also love jewellery, incidentally.
What advice would you give to someone who'd like to change the path of their life or career but can't make up their mind whether to move to another country?
If you have decided to change your life, then you must succeed. Thinking about these changes is half the battle. Close your eyes and imagine where you want to go and your brain will start to make it all come true. You'll see new opportunities which you hadn't noticed before. And don't be afraid of failure; you can't take flight without a few setbacks.