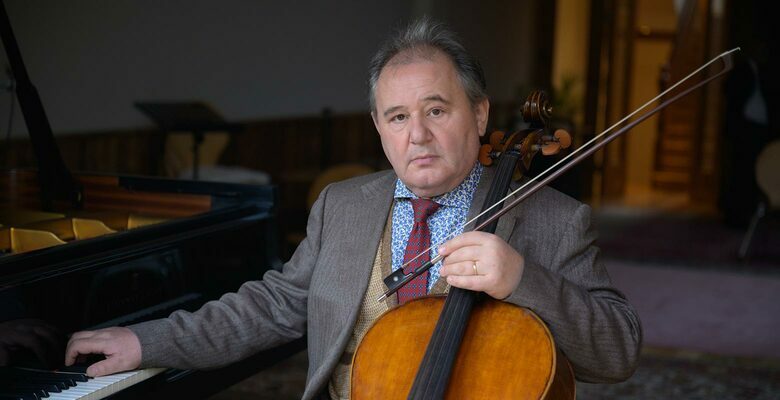 The system of musical education in Britain is quite complicated. Music is a subject in the national curriculum, but at a very amateur level. Where can we find a more specialised environment, teachers who can reveal a child's talents and if necessary, help them to acquire a grant for further study? Kommersant UK talked about this with the violoncellist Oleg Kogan, the founder of the only music school of its kind in London; the Razumovsky Academy.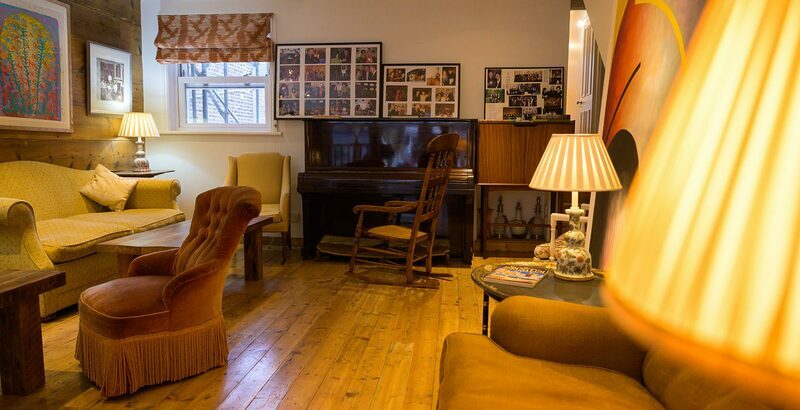 From the outside there is nothing out of the ordinary about this building, a former shop in the London area of Kensal Green, wedged in the middle of a row of two-story buildings. It seems to even lack a sign. But as soon as we go through the threshold, it seems that we have entered another dimension. If you climb up the stairs, you come to a cosy parlour with old-fashioned furniture and coffee tables bathed in warm light from floor lamps. Beyond this room there are the classrooms for music lessons. If you go down from the front door, you come to a stone hall at the back of which a large and luxurious Steinway&Sons grand piano stands on a stage. This piano once belonged to the legendary Chinese pianist Fou Ts'ong. "One of the best grand pianos in Britain resides with us in Kensal Green", says Oleg Kagan with pride. On concert days there are no free seats in this hall. World famous musicians perform here, as soloists and in ensembles: they do rehearsals, give masterclasses and record concerts. On the piano in the parlour upstairs (also a Steinway), is a photo of Sting (Kogan once performed at his birthday party with the Razumovsky Ensemble), and another of the famous violinist Ida Haendal who was a patron of the academy. She taught and gave concerts here until the last years of her life. The building of the academy was acquired and restored by the Kogans twenty years after Oleg came to Britain. Oleg and his wife, the talented pianist Polina Kogan, put their heart and soul into the creation of the academy.
Oleg, you were born in Kharkiv, you went to the Moscow Conservatory, and you won the All Union Violoncellist Contest back in Soviet days. How did you end up in London?
Yes, I was born in Kharkiv and a local music teacher gave me violoncello lessons. She really loved her work. But when I was twelve, she realised that she had taught me all that she could. They decided to send me to a preparatory school for the Moscow Conservatory, but they only accepted me there when I was fourteen, so, for two years, my mum had to take me to lessons in Moscow from Kharkiv. Then I finished the school and I was admitted to the Conservatory. You could bump into Sviatoslav Richter, Emil Gilels, Tatiana Nikolaeva and Leonid Kogan in the corridors. I got to meet all of these great musicians. At that time, amongst violencellists there was the cult of Rostropovich, and my violoncello teacher was a follower of his school. My chamber music teacher was Dmitry Shebalin, a famous violist from the Borodin Quartet. I played in Yury Bashmet's chamber orchestra and with Spivakov as one of the soloists of another orchestra, the Moscow Virtuosi. All that time I was also working back home as a soloist and I really loved it. But when, in 1991, the putsch happened, musicians fell on hard times. Many who survived had to leave the profession and get involved in business. But I really wanted to keep on making music.
So you moved to London?
First I went to Switzerland, to Geneva. There I met a Swiss violoncellist who asked me to play Bloch's Shelomo. But in the Soviet Union we didn't know about this piece, because of censorship. It seemed to me that I had already learnt everything there was to know about how to make music, but then I found out there was another way to play. There was even a different approach to sound itself, a very rich palette which was unknown to me. So I ended up being very lucky in life; in addition to my wonderful Russian training I gained what is called the Franco-Belgium violoncello school…
But you didn't stay too long in Switzerland, did you?
Although it was nice, Switzerland seemed rather small after my life in Russia, in Moscow. In the autumn of 1992 I was invited to London where I performed at a Shostakovich concert at the Royal Festival Hall, after which I was fortunate enough to receive very good reviews. I had the chance to audition for the BBC orchestra, as well as others and in January 1993 I moved to London to continue my creative life. I really liked Switzerland but I felt somewhat constrained there. Everything was slow and cautious. I wanted to live in a bustling city and London turned out to be just what I had in mind.
What else struck you about London?
Having arrived in London, I realised a very interesting fact of life; in the capitalist world, it's not enough to play well on the violoncello, especially if some of the concerts you give are unpaid. A musician, if he doesn't live with his mother, should somehow make a living. I taught at the Guildhall School of Music and Drama and worked as a guest musician in a string quartet. It was amazing. It allowed me to continue to develop artistically, as a string quartet involves an entirely different repertoire and you play for a different audience; intellectuals who want to learn about the quartets of Beethoven, Shostakovich and Mozart. Composers put their greatest treasures into the quartet genre. As a violoncellist, you sit there and you don't play everything yourself. You play and listen, you support the others and sometimes you take the lead. It's very interesting. I just loved it. I gave performances in England and abroad with that quartet, we gave a hundred to a hundred and twenty concerts a year, which is quite a lot.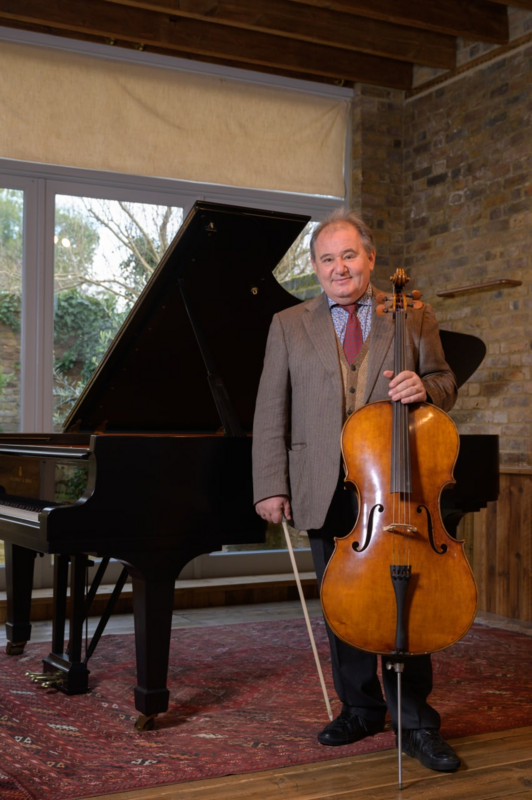 So did you combine work in the ensemble with teaching?
I met a famous musician called Yehudi Menuhin. He had his own school in Britain. One of the best students at the school at this time was an Armenian boy called Aleksander Chaushian, who asked to have lessons with me. He studied with me for six years, and won many awards, including the Grand Prix at the Tchaikovsky Competition. Now he is a professor himself at the Royal College of Music, and he really is a fantastic violoncellist. So, I had my class, six students a year. All this was happening at the same time as my solo work and my touring as part of the quartet.
I've heard that, before the Razumovsky Academy, you first created the Razumovsky Ensemble, named after prince Andrei Razumovsky, a Russian philanthropist to whom Beethoven dedicated his Russian Quartet.
The thing is that I was often asked to take guest roles as a violoncello concertmaster, then, the London Symphony Orchestra and the London Philharmonic Orchestra started to ask for me as a violoncello soloist. At the same time, I continued to teach. My colleagues, who did solos at concerts in Britain, continental Europe and other countries, and also those who were orchestra concertmasters, were also looking for opportunities to play their chamber music repertoires. This is because when musicians work in teams, they have to completely subsume their actions into those of the group. This does not satisfy their need to play for pleasure. They start to want to play things like Sherbert's octet, Tchaikovsky's trio, or Brahms's quintet. I remember the first concert of the Razumovsky Ensemble, when the brilliant Bulgarian violinist Vasko Vasilev, who had studied in Moscow, and who to this day remains the first violinist of the Royal Opera Theatre in Covent Garden, the wonderful bass player Rinat Ibragimov and other unbelievably talented musicians performed as ensemble players together. The idea of the Razumovsky Ensemble united us.
And how did the Academy come to be?
After having worked like that until about 2002–2004, I started to ask my colleagues to do master classes together with me. At the time this was difficult to organise. This is how the Razumovsky Academy was formed; musicians who had taken part in the Razumovsky Ensemble were giving lessons and master-classes to students who became enrolled in the Academy. It wasn't yet a clearly conceived concept, as we didn't have a building, or any property at all. We rehearsed and performed wherever we could, sometimes we met in Spain or France. The creative process was flowing…
And so, in 2005 you founded the Friends of the Razumovsky Academy charity, together with your wife, the pianist Polina Kogan?
Yes, we have a charitable foundation, the Razumovsky Trust. We try to encourage donations, we regularly give benefit concerts and make appeals to our trustees. It all started when I was a teacher at a summer school in Switzerland and I was teaching a 9-year-old girl called Sandra Lied Haga. The question arose of how this child could continue to have lessons with me all year long, since the school was in Switzerland, the child in Norway, and I lived in London. I already had a big family and I couldn't travel regularly to Norway. I needed the student to come to me. So we gave a benefit concert to raise funds to cover the travel expenses of this wonderfully gifted child, so she could come to London for violoncello lessons. The Razumovsky Trust received donations and this child was able to come regularly to London with her mother, rather like how I used to travel from Kharkiv to Moscow in Soviet times. I recognised her talent and our aim was to help this talent to grow. Last year, this student of mine, Sandra, won €100,000 from the Norwegian government when she was named Norwegian Musician of the Year. Talent has no nationality or race. For example, we had a student from Hungary. This girl studied with us for five years. Now she works in Hungary, where the government has given her a simply incredible instrument with a long history of use. Her career's going from strength to strength. We've already helped more than a hundred talented musicians, including some from Russia.
So do only the most talented students come to you?
No, it's not like that. A unique talent, at the level of Maxim Vengerov or Evgenia Kisina, is a very rare phenomenon. But most children have talent as it is generally understood, by which I mean the ability to play an instrument at a very high professional level. These kids just need a lucky break. Like I had. They need a good music school or festival, or for somebody to come to their school to talk to them, recommend the right instrument, give them some suggestions on how to find the right environment, where they can learn to play at the necessary standard, how to hold the bow right and regulate their sound so that they can get a feeling for the right musical resonance. And also to instil a love for music, not only through listening to others' performances but through playing themselves. For the composition to come alive, there must be a performer. A child who plays a musical instrument can become that performer. You teach them gradually how to do it right, and at some point the student becomes a mature performer. For example, at the Academy we give lessons on how to play the violin, the violoncello and the upright piano. We have four wonderful instruments, including the grand concert piano. These are the instruments the children play on. These lessons don't take place in somebody's bedroom, but here, on the premises of the Academy.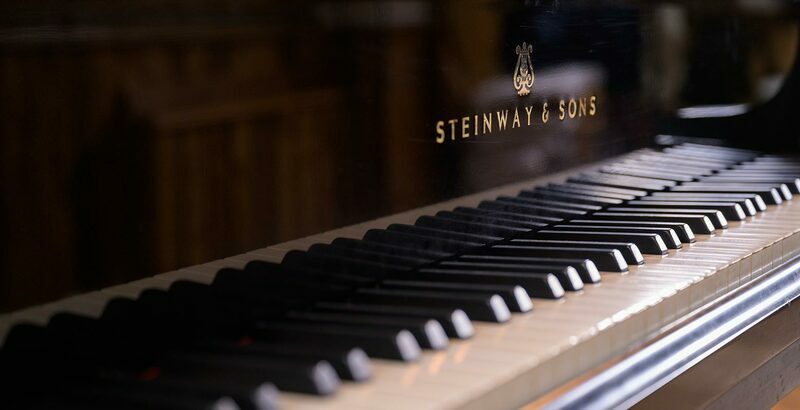 Is teaching music a prestigious profession in England?
It may seem to you that it is prestigious. It seems this way to me as well. For example if I meet the violinist Zakhar Bron, and I ask him "Zahar, who are you?", he'll say "I am a violin teacher". I could say that I'm a violoncello teacher. This doesn't strike me as a negative thing. But if you meet a young musician, they'll say that they play in some church or other, or somewhere else, maybe on the radio, but they'll tell you that they teach last of all, because it's not a straightforward profession. Nobody wants to go from house to house giving lessons, and there are very few specialised schools.
But why can't you build a school?
We could, but you must understand that everything comes down to the shortage of qualified teachers. For example, for the first time in my life, I have just taken on a five-year-old in our class, as the parents couldn't find anyone else. To learn the skills for teaching little ones, I'm asking the advice of those with more experience of this, such as our son's teacher, Gayane Pogosovaya, who herself was taught by Yury Isaevich, who also taught Spivakov. We often take our son to Spain to have lessons with Gayane. Let's go back to my childhood. I had lessons in a regular school from seven thirty to one in the afternoon, and then, twice a week, they took me to music school, where they had the expertise, the solfeggio, musical literature, an orchestra, and a concert at the end of the year. This allowed children to learn music in a more or less specialised environment. Unfortunately, in this country, this environment does not yet exist.
What budget do parents need to set aside to teach their child music?
It's very hard for me to answer this question. As for my own children, I've never calculated how much their musical education has cost. Some lessons cost £40-£50 an hour, others £100, £120 or £150. It all depends on the aims and means of the family; it's not just about the lessons, it's about putting in the time and taking responsibility. It's not just paying for the lesson. You've got to get there, you might need to spend three hours travelling to the lesson.
We have a dream; to build a real music school, but we need a vast amount of time to find the people and organise the management…with time we hope to take this step to the next level. At the moment, we have a small centre, small, but plucky. We call ourselves an Academy because, these days, it's necessary to teach adult students as well as children. It's very important for children to see how established professional musicians work, people with international reputations. This is just as crucial as going to concerts and rehearsals and this is precisely the kind of environment we're trying to support.