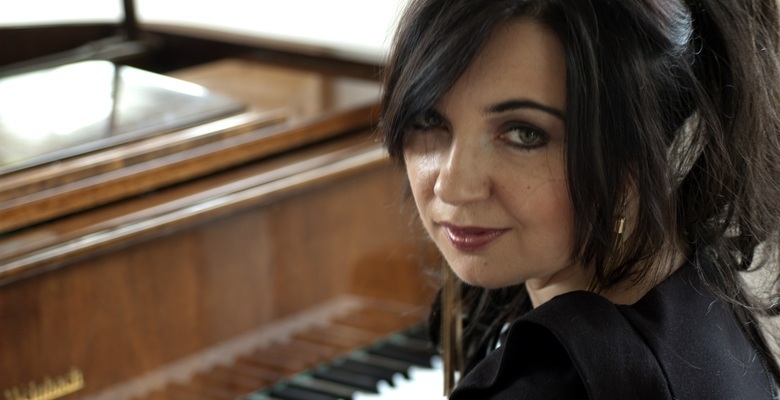 The Ukrainian virtuoso pianist and composer Evgenia Chudinovich, known by her pseudonym GéNIA, told Kommersant UK how she got a degree from the Guildhall School of Music and Drama, started writing soundtracks for the most popular tv shows and organised a charity to support children from Kharkiv.
How did you come to London? Were you able to put down roots in England straight away?
I suppose that, like many, I dreamed of studying here. When I was a student at Kharkiv Conservatory, my teacher Sergei Yushkevich and I recorded a cassette of my repertoire and sent it to the Guildhall School of Music and Drama. After that, I took part in the Park Lane Group Young Artist programme, and I was awarded a solo concert in the Purcell Room at the Southbank Centre. All the leading British media outlets were invited. That was the start of my career. I studied at the Guildhall School for quite a long time (I have five degrees in music) and this was partially due to my desire to obtain the right to work. Then I made the move to the Trinity College of Music (now the Trinity Laban Conservatoire of Music and Dance), where I received a master's degree.
I didn't like London initially. Firstly, this was because I didn't have many friends. Secondly, there was the language barrier; I understood people who spoke textbook English well, but I had difficulty making sense of dialects. What's more, English ways of thinking are quite different from the Eastern European mindset, and I needed about five years to grasp the finer points and nuances.
You're not only a musician, you're also a composer. Why are there still so few female composers in the world of music?
Amongst the younger generation of musicians, there are many women composers. In the previous generation, there are fewer of them and there are two reasons for this; economic, as, in the past, men were more dominant in business, and social, as women tended to put family life first, while men prioritised career and work. For example, performers rehearse for four to five hours before solo concerts, and then relax, while composers are constantly immersed in the creative process; they may write a work in a few hours, or spend a week or even a month on it.
Your music can be heard in many wonderful series. How do you create it, and what project do you like most of all?
I don't write music especially for series. The film directors and producers themselves chose the tracks from my already existing works. They probably think my music suits their films. When I write it, I try to convey emotion and energy. Sometimes I imagine scenes as if the director had already shot them! For example, one day I composed some music while imagining raindrops pattering on a window… My works can be heard in many famous projects such as Killing Eve, Cold Feet, Sticks and Stones and Close to Me, but I can't choose my favourite series. They are all too different.
You have developed a close connection with cinematography; you played a pianist in Charlotte Ginsberg's short film 22:22, and you've done voice-overs. What attracts you to cinema in this way?
I have dreamed of being in a film since I was a child. In Kharkiv, I went to a special music school for gifted children, and from 14 to 15 I started to go to a drama studio where I hung around from morning to night. I wanted to become an actress and be in plays and films, but professional music lessons forced me to make a choice. I chose music. I was introduced to Charlotte by the composer Gabriel Prokofiev, the grandson of Sergei Prokofiev. I was just supposed to do the background music, but Charlotte asked me to also take the role of the pianist and voice a text.
You were the first classical pianist to perform at a terminal of Heathrow Airport. How was the idea for such performances born, and why did you get involved?
These concerts were organised by the Caffè Nero chain. (I was their classical artist for a long time). We discussed the idea and concluded that it was an interesting project. I agreed for two reasons. First of all, I really love airports. Secondly, classical music should definitely be heard in these places; going through them is such a bother. Some people get quite stressed, and this music is calming and relaxing. For me, it was also an unusual experience; as a rule, the public comes to concerts to listen to a particular repertoire, but in an airport, I had to improvise to keep the audience's attention. That's why I chose works that would be just as well received by classical music lovers and appreciators of other genres.
In 2007, you created the Piano-Yoga® technique, and two years later, your book came out, entitled Transform Your Hands: a 10-Week Course of Piano Exercises. How did you come to develop this method and what are its special features?
Although, these days, I might say that piano-yoga has become my life, the idea for the project came about out of necessity. As a student, I dreamed of performing Sergei Rachmaninoff's work Rhapsody on a Theme of Paganini, but my teachers advised me not to attempt it; the thing is that I don't have large hands. But, as you know, when you're not allowed to do something, it makes you want to do it even more. At a concert in Kyiv I decided to perform the work, but, on opening the notes, I was horrified; how could I play it? It had large chords for which I needed strong hands, and I still hadn't stretched them enough at that point. Over several months I looked for a method which could help me, but I only came across individual exercises. I was pressed for time and I had to make a decision to either change the music or find a way to play it. I am not used to giving in when faced with difficulties, that's not my character, so I created the system myself. I did yoga; I'd started as an amateur, and then I got a BWY diploma and became a professional yoga teacher. I started doing exercises for my hands and body and my muscles stretched and strengthened. The method proved effective, and I played the rhapsody.
The piano-yoga method takes into account the individuality of each performer and works on two levels. The first level is the technique, which aims to develop the hands. Understanding your own body is an important aspect of this approach. The second level is creating a state of mind conducive to having effective classes by improving memorisation and resolving problems with rhythm and stage fright. These two levels come together in the task of perfecting performance on the instrument. This takes into account the individual physical and psychological traits of the musician. As a result, both the new technique and the musical instrument itself become parts of the performer. This method is also used in various rehabilitation programmes. Another use is to allow people to quickly recover their form after having not played music for many years, which is why it is ideal for those who have decided to return to music. In addition to the book, there is a four and half hour video course entitled Transform Your Practice: a Complete 11 Stage Guide, which I developed during the pandemic. You can learn more about the method and how it is put into practice on my site.
You've mentioned the pandemic. How did you manage to find the strength to start working productively at a time when so many people fell into depression? You opened a sound studio in your home and recorded two singles; Mon Amour (home version) and Vicious Circle (2021), also you released the album Voyages Français (2022), in which you made your debut as a producer…does music heal?
I couldn't even live at all without it. When I'm on trips, I must have an instrument on hand. If I don't play for three days, I feel physically uncomfortable. Music really does heal both the listener and the performer.
For many people, the pandemic was a tragedy, people found it distressing, but it gave me the opportunity to be creative. In London the tempo of life is hectic; there's a huge number of cultural events. On the one hand, this is great, but on the other, it means a total lack of free time. During lockdown, I completely lost myself in creativity and became a producer. This is an incredibly absorbing process, and from the point of view of creativity, unbelievably helpful. This is why, these days, I decide for myself what sound will be in my recordings, and I take responsibility for it. You can now find my works on a YouTube-channel, and also on Spotify.
You devote a lot of time to educational work; you teach in universities, give seminars and individual classes as well as master classes. This is a great rarity amongst famous people. Why do you do this? Also, do they teach music differently in different countries?
Returning to piano-yoga, I know from the reviews that this method has helped a lot of people. One time a pianist came to me who had hand fatigue. (This is a professional term; when someone plays a lot, their muscles become strained and tired so they can't play any more. This can last a long time). For any professional musician, this is a great blow and a psychological trauma. We started work and I managed to help her return to playing in a year. It's precisely for this reason that I think that it's important to share knowledge, as the more educated society becomes, the better it is for everyone.
If I compare teaching methods in Britain and Eastern Europe, then the fundamental difference is that here, no one takes responsibility for a student. Everyone takes as much knowledge as they are willing or able to receive. It all depends on their individual qualities and wishes. Back home (I'm going on my experience of studying in Kharkiv), teachers can actually sometimes try to give the students too much. Many of them don't appreciate this approach.
In 2022, you founded the Support Kharkiv Foundation, a charity which raises funds to help children from Kharkiv. How did the idea come to you, what have you been able to do so far, and what are your future plans for this charity?
I gave my first concert in support of Ukraine in the Steinway Hall right after the start of the war. Then, I started to ring all the large charities. I offered to help by giving concerts and arranging events, with the condition that the money raised would be sent to Kharkiv (it's my home town, where I still have a lot of people who are close to me). However, these large international charities didn't have time to deal with me, so I tried to work with ones based directly in Kharkiv. People advised me to contact Kharkiv With You, an organisation that does a wide range of humanitarian work. But the question came up of who in Kharkiv I could transfer any money to that I raised in the UK. So, in April 2022 my English charity, the Support Kharkiv Foundation, was set up. Since then, we've managed to raise around £30,000. These funds have been spent on medical assistance and psychological rehabilitation for children.
I personally give many solo concerts for my organisation and other charities, and my piano-yoga students have also organised performances. In September 2022, with the support of colleagues and the public, we organised a charity gala concert at the Other Palace Theatre in London. Ukrainian musicians performed there; the singer Evgenia Omelchenko and the jazz harpist Alina Bzhezhinska. Also there were the British musicians BLÁNID and Bradley Russeau. The legendary British actors Bill Nighy and Chiwetel Ejiofor took part; now they've become our official partners. My trust has a platform where people from the whole world can make donations to support our charity projects. One of my immediate plans is to hold a benefit concert with the participation of Ukrainian artists on March 8 (International Women's Day).