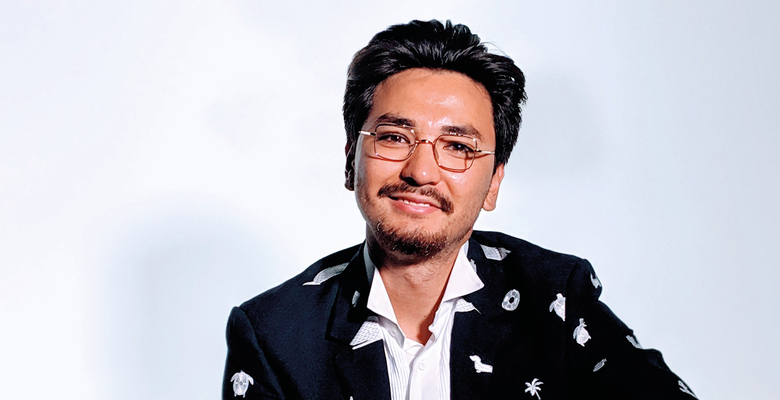 At the start of July, we met Nadal Sarkytbayev at the MyClub business club in London. A physicist by training, the founder and general director of the company that created the ApTap app devises and develops startups which, as well as bringing a profit, help to solve problems, including ecological ones. The entrepreneur told Kommersant UK how he ended up in London, how he has benefitted from a classical education, how to look for investors and also what qualities an entrepreneur must have.
What brought you to London?
I moved to Britain 17 years ago, at the age of 13. My journey began at Shiplake College boarding school. I enjoyed my school experience; I studied and did sport, I played football, basketball and tennis. I was the captain of three teams. In my final year, I became the Head of Burr House and the College Prefect. This post and these sporting achievements helped me to develop my leadership qualities and get into university (in England extracurricular activities are taken into account during enrolment in universities). I also did the prestigious The Duke of Edinburgh's Award for young people, and I got top marks, a DofE Gold.
You went to Imperial College London and received a classical education there. Nowadays, it is often said that this type of education does not provide practical skills and, consequently, doesn't prepare students for life. What's your opinion about this question?
If I reflect on the necessity and practical application of a classical education, then I'd say that it was good for me. At University, I studied theoretical physics, in which I have a master's degree. To many people, this subject seems to lack a practical application, but it moulds thought, teaches you to break down problems into their fundamental parts, and gives you a different view of life. When I use my imagination to picture things which I have not seen, I can understand objectively what exists and where I stand. This has helped me in business when creating new ideas. To develop thought, an area of study must be selected, but, for everyone, whether or not to go to university is an individual choice.
Tell us about the startups you're working on.
My first project, GreeneR, was originally about the environment and a green future. It allowed people to switch from traditional suppliers to green ones. Then the idea of the project became broader and the ApTap startup appeared. It's a platform for managing accounts and subscriptions. This allows the user to see all the options together in one place, find the best value offer and switch to it with one tap. The startup won a £250,000 Innovate UK grant and attracted more than £2.5 million in investment. The company also signed an agreement with Barclays and TSB bank and went into partnership with the largest UK telecommunication providers, such as SKY, BT, Virgin etc.
I'm currently working on two other projects. The first is a book club called Evolve which has the mission to create a society and environment where books can help people to develop, unlock new potential and reveal their unique talents. The second startup, Zeal Power, is related to my greatest passion; solar energy. I want to create a world in which solar energy is affordable everywhere. It's possible to make serious money and save the planet at the same time. I plan to be working on this startup for the next 15 years.
The most difficult task for any business, especially in the early stages, is to find investors. How can you discover them and pique their interest? Are there any rules or techniques which you have to know?
The most difficult part is to engage investors with your ideas and personality. Although the idea is crucial, I came to realise that investors are primarily betting on the person and their team. In my view company founders are the most important people, everything is built around them. Even if the idea isn't actually that great, if someone takes it and invests a lot of time and effort into it, a promising business can be made. The opposite is also true; a good plan can't reach fruition without a good team. Finding investment is tricky, but it'd break the search down into three parts. The first is looking amongst your friends and acquaintances for people who can introduce you to potential investors, although success here is quite a rare occurrence. The second is cold calls and letters. The third is attending various events attended by many investors looking for startups and making a self-presentation.
Do you consider yourself a businessman? What qualities and skills must an entrepreneur have?
I consider myself more of an entrepreneur. I love thinking up ideas which, when they are put into practice, will have a long-lasting effect and will somehow solve people's pressing issues or those of the planet as a whole. Being a businessman is one of the roles you need to play when you're in the same building as your investors or partners. Similarly to the role of CEO, you take it on when it's necessary for your business. When you prioritise your business, you adjust yourself to its needs rather than just doing what you feel like. Now I have a slightly different, but equally interesting role in business; I'm a founder, part of the management and I deal more with strategic planning. Each month I take an interest in the work of the team and find out how my co-founders are doing. I contact people who they can't get in touch with directly.
Self-belief is important for entrepreneurs, investors can sense it. It's also critical to have foresight about how to develop the startup over the next five to ten years and to understand how the industry will change. It's also important to be able to sell yourself and your idea; if investors and partners see that, as well as being passionate about your idea, you can explain the whole 'how, what and wherefore' of it, then they trust you. It's important, both for you personally and for the company, to have your own principles and values and stick to them.
What are the pros and cons of running a business in Britain?
The ecosystem here is strong because of its simplicity and the accessibility of fintech-related technology. There are convenient investment programmes for startups in their early stages. Compared to the American or European markets, Britain is more conservative, there aren't such large funding rounds or volumes of one-off investments. The British like to focus on just one niche for each company, and they take fewer risks.
Mikhail Kazinik [a prominent populariser of classical music] believes that music helps with the study of hard sciences. He conducted a survey of Nobel laureates and discovered that almost all of them had been musical when they were children. Chess is also great for developing logical thought. What do you enjoy doing?
I used to play the piano, but I was more into chess; I reached the highest rank, took part in various regional competitions and represented my country. Chess helped me to develop logical and strategic thought and think everything through several steps in advance. Sport helped me to develop my leadership qualities and other skills which are useful when seeking business partners, plus, when I'm doing sport, it's easy to have new ideas.
Which entrepreneurs or famous scientists inspire you?
There are two scientists; the physicist Albert Einstein and Richard Feynman. I've read a lot of books about them and seen films. I especially liked a docuseries called Genius (National Geographic) which does not just portray how Einstein conceived his ideas but also showed his personal life. He was a very unusual person. Richard Feynman was able to explain complex ideas from quantum physics with ingenious simplicity. He was a very multifaceted personality, for instance, he played the drums and he had a great sense of humour. I like his biography, Surely You're Joking, Mr. Feynman!, (1985), which was edited and brought out by his friend Ralph Leighton. I'm also a fan of Steve Jobs. I like how his mind worked and how he changed the world. He saw beauty in technology and he created brands; at first Apple, then NeXT and Pixar. In doing so, he revolutionised two different industries. One of my favourite of his interviews is Steve Jobs: The Lost Interview, in which he talks about his work at NeXT after he left Apple. I would also recommend Steve Jobs (2011), a book by Walter Isaacson and After Steve: How Apple Became a Trillion-Dollar Company and Lost Its Soul, by the techno-journalist Tripp Mickle; this publicised to a wider audience many stories about Jobs which were previously unknown. Elon Musk is also inspiring, for me, he is one of the greatest influences in the space industry. I've had the honour of meeting astronauts from Inspiration 4, the first all-civilian mission to orbit.
What do you do in your free time? Where do you like to spend time in Britain?
I like to improve myself and develop in different areas. I get up early, at five, and I do my first meditation before I talk to anyone or pick up the phone. Then I do some sport and fill up my diary with tasks for the day. I like nature, in London, that means visiting Hyde Park or Kew Gardens. But I like to leave London for places where there is more sun and a more measured lifestyle, such as Italy. When I leave the British capital, I feel relaxed. Whenever I leave the British capital, I start to feel like I'm on holiday.