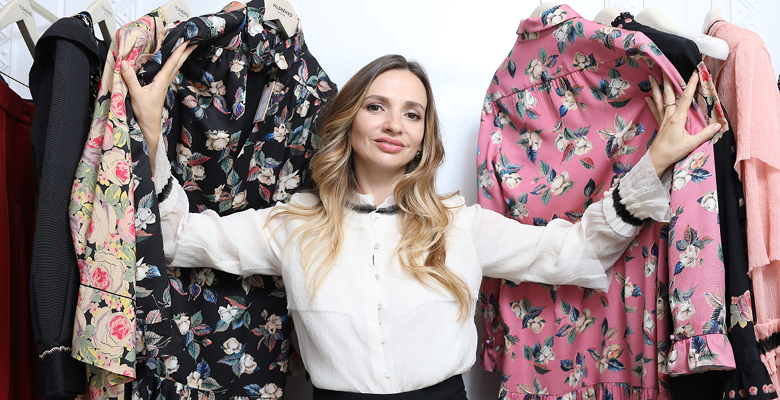 Even if you haven't heard of the Vilshenko brand, you have probably seen the romantic,delicate dresses in fashion magazines; these instantly recognisable folkloric
fantasies were especially popular in the mid-2010s. Salma Hayek, Jessica Parker and even the English rocker Florence Welch have worn Vilshenko dresses. Olga Vilshenko is one of the few Russian designers who have achieved commercial success in the West. In this exclusive interview with Kommersant UK, she tells us how she managed to pull this off and how her business has suffered since the start of the war with Ukraine.
Let's talk about how you, a girl from the Urals, from the small town of Zlatoust, came to Britain and how your brand ended up not just in London but also in Hollywood.
As I wasn't particularly interested in England as a child and I actually studied German at school, it's surprising that my journey began in this country. It all started when I
was studying fashion at the Chelyabinsk Institute of Design. I saw an advertising campaign In Vogue; the Marangoni Fashion Institute was offering short fashion courses with a choice of study venue; either in London or Milan. At the time, I was a big fan of Milan; my husband and I often travelled there; I liked the Italian style and their way of life. The Italians are people who are always having fun. They love life, they're the complete opposite of the English. While in Italy they drink for pleasure, here, unfortunately, people drink to relieve stress. At the time, I had two little children and I had to ask my husband to dispense me of my duties so I could go there. It was for three weeks in the summer. I asked him where he thought it was better to go; Milan or England. Since my husband's sister was already studying in the UK, he said it was better to go there. I had practically zero English then, but when I arrived in Britain, I was glad that I at least knew something, as I didn't know Italian at all. The course was amazing and the main thing I got from it was how to put together a collection. This was in 2005. By the way, before that, I'd studied finance, I did accountancy and auditing, which still helps me a great deal. After studying that, I went straight into fashion design, as soon as the subject appeared at one of our institutes in Chelyabinsk. But no matter how talented the teachers were, they were very far away from the European fashion industry and trends. It just wasn't enough for me, I had a thirst for knowledge. How was it all done? Where do trends come from? How is a collection put together? At Marangoni, they showed us all of that in three weeks, and they gave us some guidelines for further growth; English and European education as a whole greatly encourages self-study. I went back home but I'd already got the bug. I went back to the Marangoni and did a year-long course. I decided to set the bar high straight away, so instead of launching my brand in Moscow, I did it in London. I already had a friend here who I established a company with and we found an office. At first, we didn't have any kind of business plan; just a dream.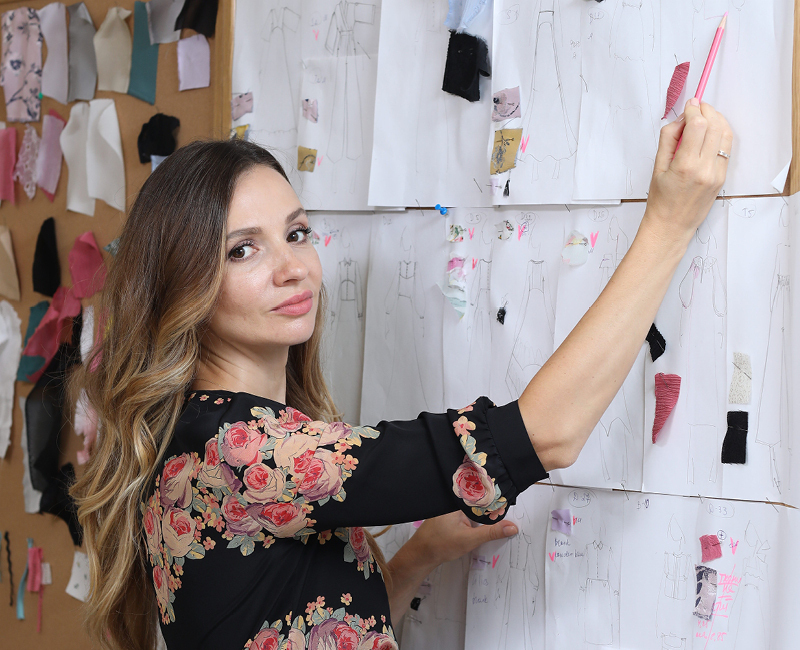 What new ideas did you want to bring to the fashion world that London hadn't seen before? How did you want to cause surprise?
My motto was "The dress doesn't wear the woman, the woman wears the dress". I have always created comfortable and timeless dresses which you can bequeath to
your daughter. I launched my first spring/summer collection in 2010. In the spirit of minimalism, it was very cautious. I used pleasant natural tones and light needlework.
When the time came to photograph a lookbook, I called in the stylist Sarah Richardson. Sarah is very talented, later she worked with Saint Laurent. She saw my collection and was greatly impressed. She said straight away that 'Russianess' was exotic in London and that everyone would like my aesthetic. At the same time, she also met Victoria Davydova, the editor-in-chief of Vogue Russia. For her, it was a breath of fresh air and for me, it was a great boost; a Stylist with a capital 'S' who
was working with major brands appreciated my work and she was supporting me, a fledgeling fashion designer. We worked together for about another two years, shestyled another two of my collections for the lookbooks. Thanks to Sarah, I got to work with a wonderful PR company. My second collection, which was bolder, was full of headscarf prints. There was a lot of embroidery, scarf prints, lurex and folklore. It was like a refined Russian soul, a little sad, a little anguished…
What guided your visuals? Maybe some stories, fairy tales, or childhood reminiscences?
Childhood, yes. Grandma's dresses, she also had a multitude of mattresses, blankets, pillows and tablecloths with different scarf prints. At the same time, I couldn't imagine how to make fashion out of all of that. But Sarah put it all together so well that I fell in love with it myself. And that's how the story of the Russian girl began. Essentially it was about me. Unsure of herself, shy, dreamy, from the little town of Zlatoust, with a family in which everyone sewed… I think that maybe, in my life, I have embodied my mum's secret dream; she could never have had a career like mine, although she sewed fantastically, she had patience, talent and golden hands. My mum was also a German teacher, she dreamed of getting into a car and driving to Germany when the borders opened…
For a successful business, your team and surroundings are important. In London, I found wonderful people who believed in my brand. The second collection was a
tremendous breakthrough, many guests came to the press day. Florence Welch's stylist picked her several outfits for a concert. I didn't even know her. And they started to tell me: "Look, Florence has given a whole concert in your dress! Look, she's at the airport in your blouse!" and I said, "Well at least let me listen to her music!".
So you weren't chasing the stars and offering them your outfits?
I didn't even suspect that such a thing was possible. I wanted it to happen, of course, but I wouldn't have dreamed it could happen so quickly.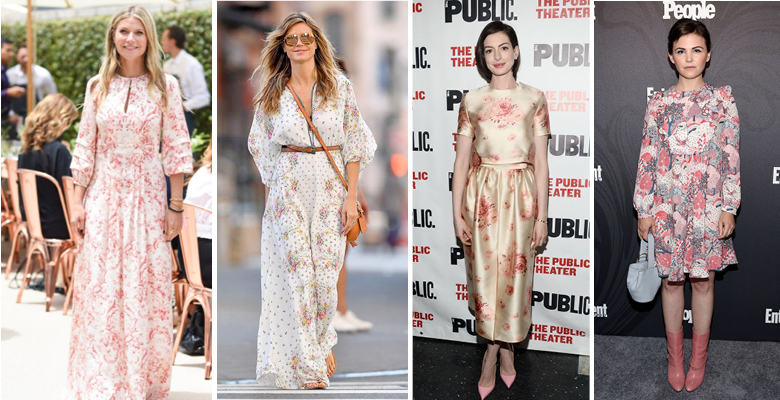 But did Sarah Jessica Parker and Salma Hayek find Vilshenko by chance, or had the wave of popularity already started?
It was thanks to the work of the PR company. No one forced them to do it…with Sarah Jessica Parker, it happened like this; she came to Moscow to present her new
scent of perfume and she had the idea of wearing something from a Russian designer. They showed her a whole selection and she picked my brand. Another two of my dresses have featured on a film set. One of them was in the children's film Peter Rabbit. At the end of it, Jessica Alba appears in my embroidered dress. I said to my son: "Look, it's my dress!" but he didn't believe me. "Have you got it in your wardrobe?" he asked."I have" I replied. So my son said "Put it on!" and I did, and he put the video on pause, told me to stand next to the screen and photographed me to show his friends. The first lady of Azerbaijan Mehriban Aliyeva also liked my brand. We had two mannequins in Moscow made to her measurements and two of her daughters used to come to our office and we'd sew things for them.
What difficulties did you encounter whilst you were developing Vilshenko?
Well, for instance, I managed to open a company while I was visiting Britain on a tourist visa. I had no idea it was against the law, although I'd had advice from a lawyer friend. At the time, these things weren't controlled so strictly. As I didn't understand that I'd seriously broken the law, I kept on travelling in and out of the country until I was stopped at the border. After that, for a year and a half, I had problems getting into the UK, so I had meetings with my team in Paris. My husband advised me to quit and close the company, but after 18 months I had a British work visa, I had to go and report to the police, I passed exams… There were also problems inside the company; despite everything, I was still working in Moscow and here in London, my studio was more for PR and sales to the wholesale clients. It was all more for PR than a real business. This was upsetting me, and upsetting my husband even more. Back then, I didn't have a shop, an Instagram account, or an online store; it was all a long drawn-out story. It was then that I dully gave birth to a child (I have lots of children; I'm always giving birth to someone) and I realised that I couldn't go on, I was about to crack. I had to travel to London with my baby for three weeks and I had another baby in Moscow; it was hard. So I said to my husband "I've had enough, I need to concentrate on the kids". Then some friends suggested making a properly structured company for me. They worked everything out, drew up a business plan, a woman agreed to be a company director, she brought in her own people from the fashion industry and everything got going. I took care of my business and she took care of hers while the sales manager promoted the brand. And the main thing was that the head of operations was the office in London. I had a team in Moscow and we were developing the collection, we brought it here and the UK production team expanded it and liaised with the London PR company. Instead of two collections a year, we had four, later six; the workload was colossal. Consequently, the team started to grow. We got our first big order from Net-a-Porter. One of the dresses, of which we had 50 items, sold out in a few hours and we couldn't make any more straight away. More buyers came looking for them. After a short while, we realised that we had the British market completely covered; we were everywhere. 85 stores in 24 countries around the world. That was in 2016.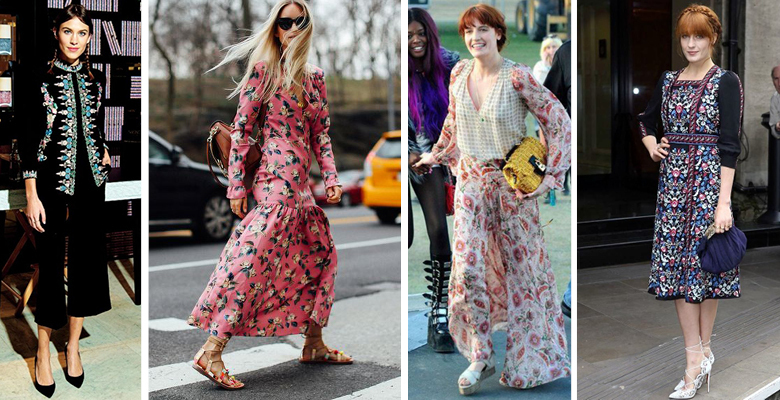 Were Russians your main clientele before the war?
At the moment, my direct clients are mostly based in England, they're Europeans, Americans and Arabs. Russians always seem to avoid us. It reached the level of absurdity; certain influential ladies were coming to my press day and ostentatiously turned up their noses, saying "I don't wear flowers, they'd make me look like a Russian doll". And then Hedi Slimane made a collection with floral dresses and they weren't worried that they'd look like matryoshkas in that. My friends and I had a good laugh at them, we thought they were like the inmates of a 'children's home for the rich', with no individualism, all driven to dress so that people would see how much their clothes had cost. Even in London, if I have Dior shoes or trainers, Russian women will notice straight away and pay me a compliment. For the English, however, it's very important for the brand not to be obvious, so that people come up and ask where it's from. My friends and clients never tire of writing "Olga, I was wearing your dress today and five people asked me where it was from, one even came running with a camera". Of course, it's very pleasant to hear that. I've already stopped getting upset by Russian audiences who, as well as failing to appreciate my work, actively criticise it. Time and time again, I wonder at their poor upbringing.
What are their main complaints?
For some reason, they all talk about the quality, while we stand out with the finishing we have plus we always use natural fabrics, which is unusual for the price point.
They like to turn things inside out to check for crooked stitches. And they are such respectable-looking ladies. You definitely can't expect any compliments from them.
Doesn't it seem to you that women today are almost all rejecting the concept of feminine beauty? There are lots of unisex collections on the catwalks. We
interviewed the fashion historian Alexander Vasilyev. He said that the haute couture houses are disappearing, and soon no one will have to dress up in
elaborate outfits. Fashion has become functional, minimalist and mundane. Women are choosing trousers and trainers for everyday wear.
I agree, of course. Still, I've come to your interview in a long dress and high heels. Dressed like this, you immediately get so much attention, especially from men. You see, in London, at this time of the afternoon, they just don't see it done in this style. Yes, there are now more trainers, comfortable trousers and unisex clothes. But there
is still demand for beautiful dresses. Again, going back to the style of the English, French and Italians; they don't chase after trends. The fundamentals of their preferences are unlikely to change. They know what suits them, so they don't go looking for short figure-hugging skirts or crop tops just because they're in fashion. I
sometimes like to pop into Zara myself, buy something with two seams for a few pence and then go to the beach in it. But if I have to dress up, I need length, sleeves
and a story..that can also be sexy.
What do you think of Balenciaga's rags, those creations of Demna Gvasalia?
Well, there's demand for that, so the marketing must be good.
A photoshoot in a muddy bog…
That collection was a tremendous success. It conveyed the miserable mood of recent years, the armageddon of our time.
Wouldn't you like to make a collection like that?
I can't create anything like that. Actually, world events really concern me. I've got ringing in my ears from what's happening, and it's very painful for me to watch it all.
But everyone decides in their own way what to do to stand out. This is what Balenciaga is known for; giving voice to the zeitgeist. And on a beautiful woman with a kind face such as Renata Litvinova, for instance, it can even look elegant. By the way, Renata Litvinova and Svetlana Bondarchuk came to see me when I had a showroom in Paris. But it seems they only came because of the vibe. If I'd been in Moscow, they definitely wouldn't have bothered. They'd rather fly to Paris for fashion week and to see my collection there than cross the road to visit my Moscow showroom. I've also only met Alla Verber in Paris, we've never met in a Moscow café. It's a kind of concealed pain, a legacy of the Soviet past. We're all still snobs to some extent, probably including me.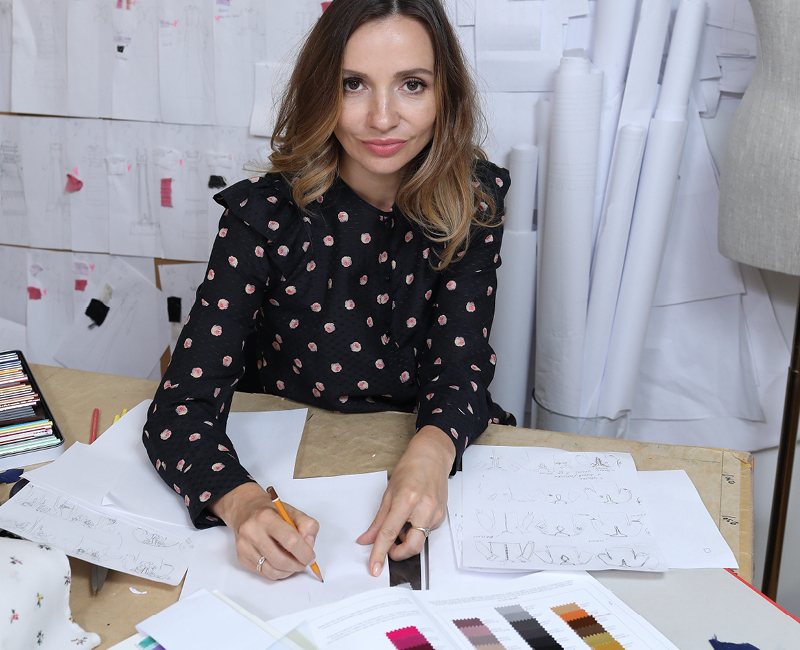 But what's happening to your business at the moment? You've staked your bets on motifs drawn from Russian folklore and now everything Russian is an
anti-trend. Nonetheless, you do hear Tchaikovsky, they play Rachmaninov and Russian pianists perform in London. How does the British public receive you
these days? Or are they maybe unable to distinguish Russian designers from other Eastern European ones?
British clients aren't against Russians at all, they understand everything very well. However, my company bank account has been closed. I opened it using my Russian
passport many years ago. They didn't even bother to check who or what I was, despite the fact that I've been paying taxes, salaries and rents for over a decade. A problem in this country is that if an order comes from on high, those tasked with enforcing it don't bother investigating the details of each case. When I was starting out, my friend Sarah told me that I should emphasise being a Russian designer to help myself stand out. It's not that I had doubts back then, but I was a little wary, although I didn't really understand why I felt that way. Still, my intuition warned me that if something changed dramatically in politics it could hit my business. When the war happened, I was completely shocked. I feel very sorry for the Ukrainians, I greatly respect them as a nation, it seems very unfair that they have to endure this. But I also feel bad for our people who have found themselves here; back there in our home country they tried to wipe us out, so we came here and found no life. Yes, some Ukrainians have come to the shop and behaved aggressively, but I understand them, it's natural for them to hate their enemy, just as ordinary Germans were hated during and after the Great Patriotic War*. At times I just feel depressed, especially after Volodin [the Chairman of the Duma and an influential former aide to Putin] recently said: "Whoever's left Russia, when you come back, you're going straight to Magadan" [An infamous centre of the gulag]. If British people get into trouble abroad,
their government tries to bring them to safety! But that's not how our leadership treats us, they have such contempt for our nation… but what can you expect of these people? When Russians come to my boutique, the first thing they do is criticise…There has always been this hostility to each other in our culture, now it's just been unmasked. I am against the war, against violence and against this government which has been behaving criminally for years, I'm ashamed of it all. The events of recent
years have alienated me from Russia. I still use floral folkloric designs as they are common to many countries and different Slavic peoples. But I've stopped reading
Russian fairy stories to my children, now I see hidden traps in them.
So What happens next? Are you going to continue to produce your renowned
matryoshka candles and create new collections?
Before the war, we had a queue of clients. Net-a-Porter wanted to represent us when our exclusive contract with Liberty ends and my manager, who is running that
project, is still hoping this will work out. We had five matryoshkas in development and another two were planned, but we've had to put it all on hold. Although, except for
Russians and Ukrainians, everyone receives my things well. They continue to sell and people still order them at Liberty. If Net-a-Porter had stocked up before February
last year the sales would have been great. But, on account of the war, it was judged politically incorrect to buy from Russian designers. We want to change the names of
the candles, but what's the point? They still look like Russian dolls. For that reason, I still don't know what will become of my brand. I'm being pulled in different directions. The lease on the shop in Chelsea runs out at the end of March. Of course, I'm not going to stop being creative; I can draw well and paint pictures… I'll do something. At the start of February this year, a franchise was requested for Dubai but I'm not ready yet, as franchises are developed by teams of experts. My friend says: "Olga, we'll set you up in Chloe or somewhere else. You'll work there". To be honest, I can't imagine myself being on someone else's payroll. My son works at a wonderful architects' company which develops pop-up projects for Celine, Prada and so on. Recently, they created some amazing windows for Christian Louboutin, with significant participation from my son. If I decide to move to a new unit, they will create special features for the interior design. Another option is to create a style package based on this boutique for use in large department stores. However, this requires funding, support, and interested partners - something challenging for us.
*A Soviet and Russian term for the Second World War